We got a new play set!! Yes, I am incredibly excited…maybe even more than big sis, but only because she doesn't realize what this giant hunk of wood and broken big yellow slide will soon be. At 2 years old, big sis loves to climb, run, jump and swing on anything and everything. Going to the playground every other day gets tiring, so I thought a play set would be a great addition to our yard. So the search began. I looked at the cost of some new play sets and that for sure wasn't happening. I'm in the market for a playground, not a castle…right?? So I began searching for a used one.  I contacted a couple of craigslist free posts only to find they had already been claimed. I found several others that were complete junk. Then one afternoon at nap time I happened to pull up the list and voila, a new post. I quickly sent a message and to my surprise he responded back that we could pick it up next week! We had to drive a bit farther than anticipated, but it was totally worth it. The gentleman whose daughter had outgrown it, helped take it apart and then helped load it onto a trailer HE loaned us! We were so lucky! It took only a couple hours to take it apart just enough to load it onto the trailer and then away we went.
big yellow slide: aka giant pile of wood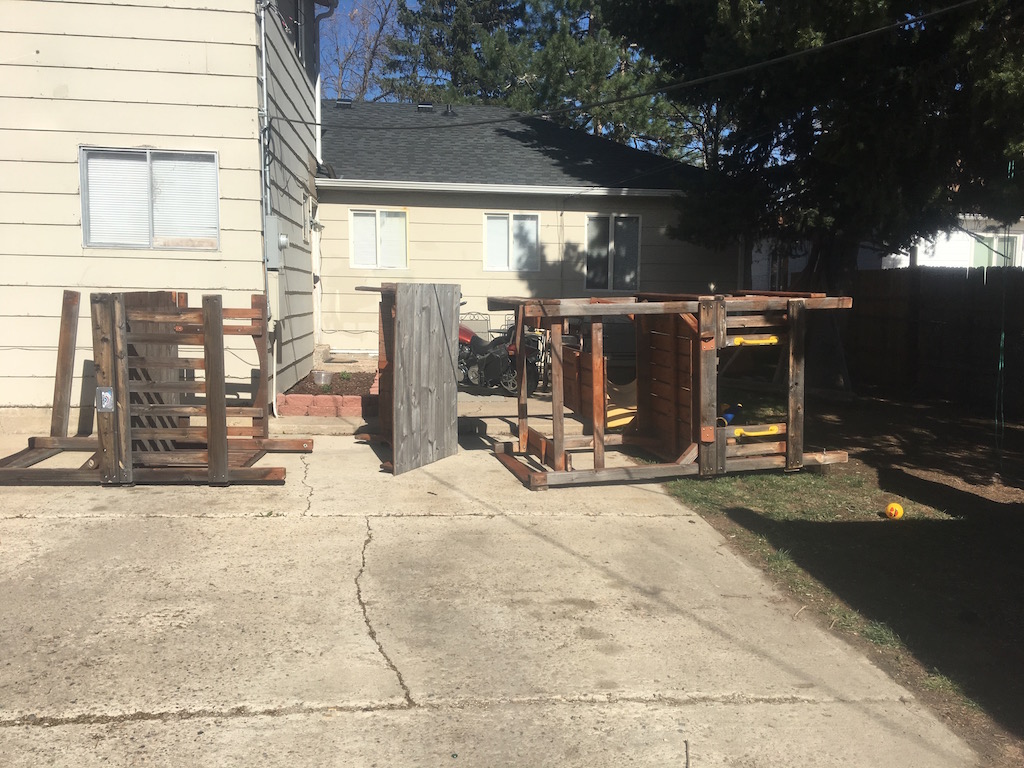 The whole thing needed sanded and stained and then reassembled. The next morning I purchased a contractor size pack of sandpaper and got to work. Working with a toddler and an infant is no easy feat. They both gave me a solid 2 hours in the morning, but then once we got into snacks, feedings and naps, I felt like I had to start and stop a billion times.  The first day was just sanding, but the second morning I broke out the stain as encouragement to keep going. It looked so pretty!! Big sis climbed around the pieces and played with the sideways steering wheel. I know she had no idea what was going on other than she had a new big yellow slide…which was sideways on the ground. She got to slide down it maybe 5 times before it was taken off and now it was just laying in the grass. I convinced her to roll her cars down it hoping it would buy me some more work time and it worked for a short while. Once the pieces were mostly stained, I had to bring in the big guns, aka dad. He somehow managed to single handedly move it across the driveway into place AND stand it up (can I get a whoop whoop??). Then he drug the second piece over and stood it up too. He put in all of the bolts connecting the 2 together and it looked like a real play set!!!
big yellow slide: back together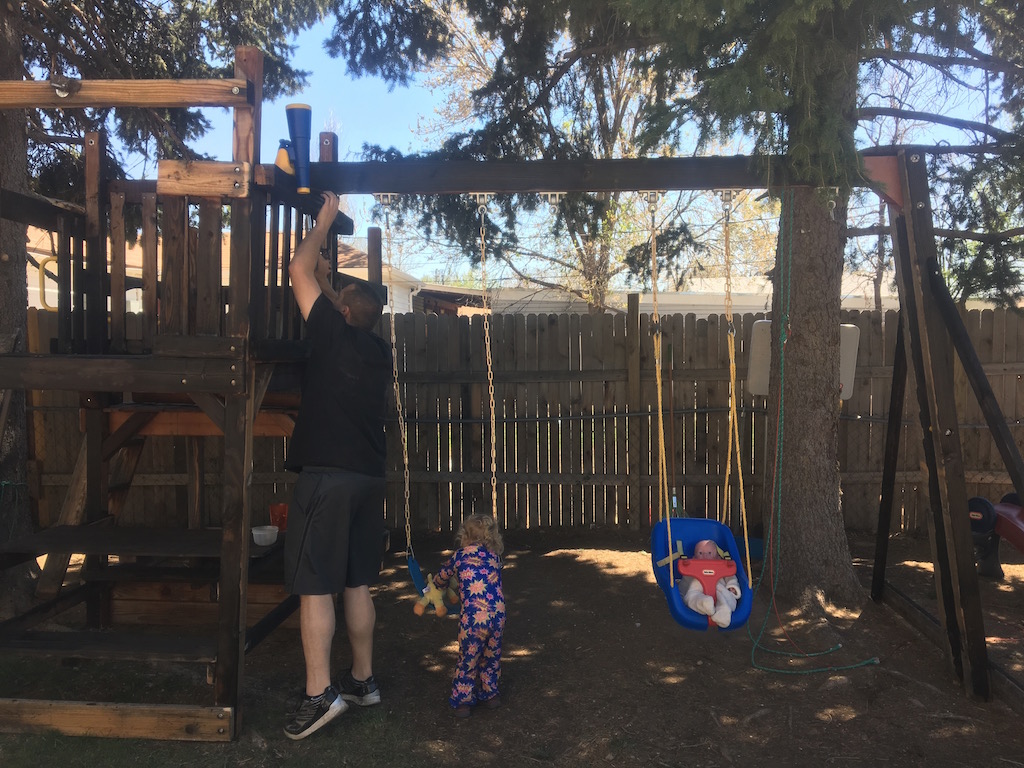 First on were the swings. Then came the big yellow slide. Big sis was so ready to test it out.  She had no way to get up there without being lifted, but I don't think that mattered at all. Suddenly she picked up on what was going on – she had her very own big yellow slide, to go on EVERY DAY!!Next was the climbing wall. I didn't realize how sketchy a 2 year old is on a climbing wall. Helping her up is only hindering her in the long run, so instead I try my hardest to just let her struggle. The only rule I've had to make so far, is no flip flops. She can barely walk in them, much less climb in them. The addition of the wall suddenly gave her freedom to go up "all by self" as she puts it, and allowed me a solid afternoon of work time, kind of…solid except for tending to lil sis, so not solid at all, but better than trying to entertain big sis and take care of lil sis. I managed to get the roof pieces and most of the swing frame stained. After going down the slide at least 100 times, big sis moved to the swings. She of course thought the baby swing was for her baby dolls and the big girl swing was for her to swing on her tummy, since it was a tad too tall for her to sit in. Then we loaded up the roofs and attached those, leaving me with a lot of staining left in all the crevasses, but a completed working play set!! It took me 2 more days to stain the rest and the whole time big sis played on it.  Up and down, up and down. Every stuffed animal and doll she owns came outside to try out the climbing wall and the big yellow slide.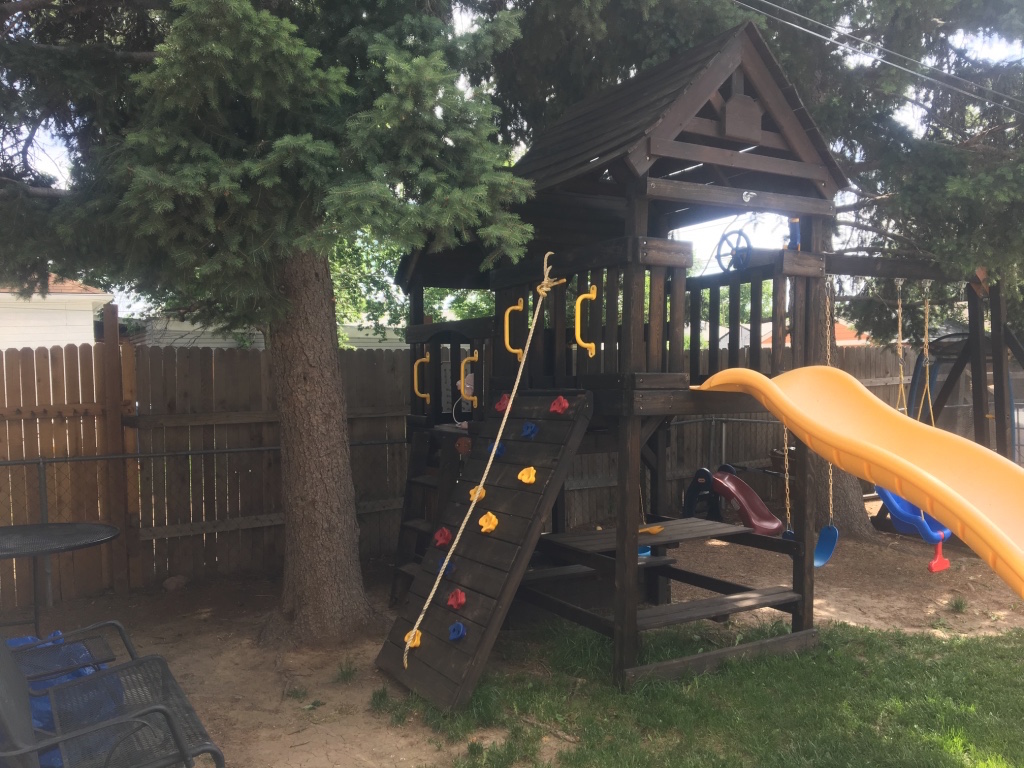 The last part to put back on was the ladder to the back play house. It had to be trimmed to accommodate the tree, requiring assistance from dad.  Oh how he loves all of MY projects that always need HIS help. He cut off the bottom making it fit perfectly and I screwed it on.  New beautiful play set for the cost of a tank of gas, one day of UN-assembling and transporting, 3 buckets of stain and 4 days sanding, staining and putting it back together. Done and done. If we move anytime soon, dad says we are NOT taking it. I haven't decided if I agree with that yet or not.