Big sis has always been into everything, and I mean EVERYTHING.  Take it apart, take it all out, stack it together, see how many will fit, etc.  So when I saw the idea of a busy board online, I knew I had to make one.  I have rearranged it twice now, added more stuff to it, and with little sis now playing with it, I've since added more stuff for her. I thought this would be an easy project to just knock out one afternoon, but it's actually taken me a long long time to get it all right. Parts I thought big sis would love, never got touched and other parts that she really did love, had to be reinforced! All said and done, here it is as it's stayed for quite some time now.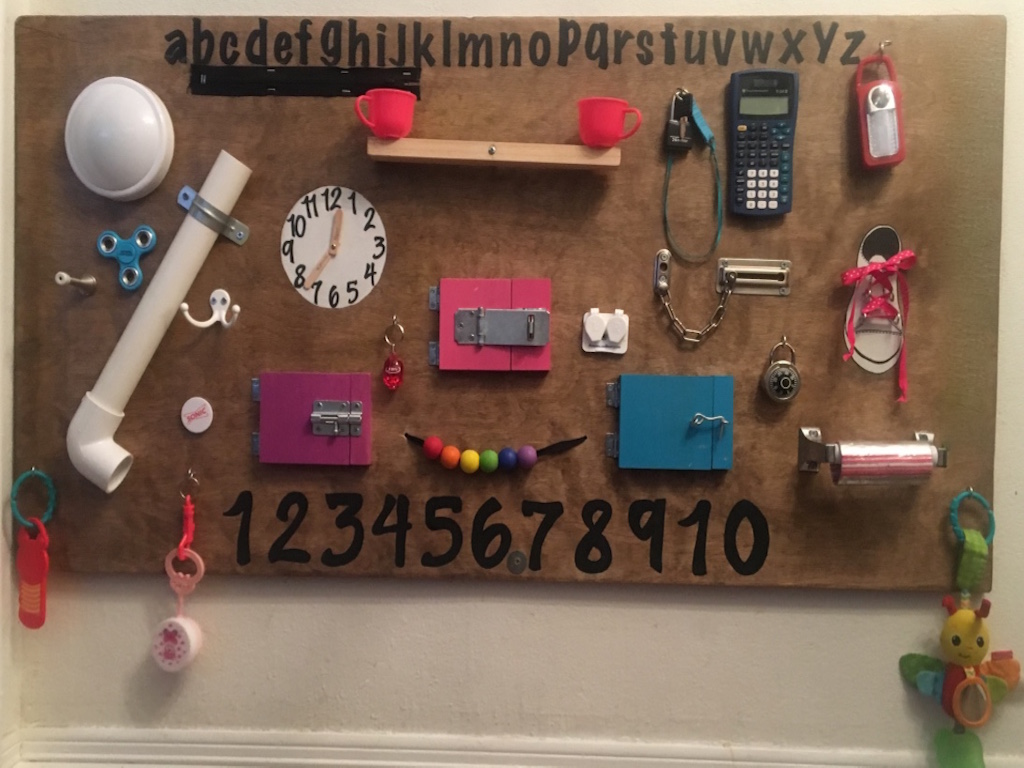 The project is actually very simple, collect stuff to go on the board, attach it, mount board to wall. The hardest part is making it all fit on the board. Oh, and the need to add more stuff. We always get little key chains and freebies and I think "that would go perfectly on the busy board." Then back to step one of where to put it.
busy board: materials
Just about everything on the board came from the hardware store, the dollar store or was something we already had.
Hardware store:
Spring door stop-both kids' favorite as babies
Lock and key-tie the key on!!
Toilet paper holder-seems silly, but both of my kids love it
PVC pipe and clamp
Double hook
Barrel bolt lock (purple door)
Chain door guard
Hook and eye lock (blue door)
Hinge hasp (pink door)
Wood for board
Wood for doors
Mini hinges for doors
Screws
Eyelets
Dollar store:
Click light
Spinner
Phone grip-pulls in and out
Balls for PVC pipe-big enough they aren't a choking hazard
Clip on flashlight
Dial lock
Other:
Alphabet-painted on with stencils from the dollar store
Zipper-best to staple this on, it needs to be held tightly to the board to zip smoothly
Balance cups-2 cups fixed to a small piece of wood with a hole drilled through the middle, mounted to the board with a bolt
Calculator-if you don't have one, they can be purchased at the dollar store
Clock-painted circle and numbers, with popsicle sticks for hands
Contact case
Lace up shoe-painted shoe with 6 eyelets and a ribbon for the lace
Wooden beads and string
Light up keychain
Numbers-painted on with stencils from the dollar store
Miscellaneous baby toys
For the items from the hardware store and the dollar store, it's a matter of going out and buying them. Easy.  The stuff in the other category was the stuff I either collected over time, found around the house or made. The painted shoe isn't necessary by any means, I just thought it was cute. Most everything is mounted to the board with little short screws.  The exceptions are the zipper (stapled), the balance cups (screwed), the clock hands (bolted), the calculator (velcro), and spinner (glued). The phone grip came pre-sticky so it didn't require a screw either. I was going to be ambitious and paint something behind the doors, but that never happened so I eventually stuck stickers in there for the kids to have something to look at when they opened the doors.
busy board: play time
I tried to make this board be something for the girls to have to work at. At first, big sis mostly played with the door stop and the toilet paper roll.  Once she got a little older, she liked the click light and putting the balls through the pipe. After doing that 1000 times, she figured out how to move the beads and open the hasp latch. Each month she would figure out how to do another piece of the board. She is still working on the harder stuff. Telling time, lacing/tying the shoe and the dial lock will come with practice, but probably not for a while. Little sis is now standing up on the board and starting the cycle again. Except this time she has big sis to teach her how to do it all and it's so sweet to watch them play together!
busy board: extras
Now a few things to consider if you plan to build one. Babies are so STRONG! Strong in weird ways you wouldn't even expect them to be strong. Make the board tough and make sure all of the parts can be seriously tugged on in every possible direction. Most importantly, make sure the board is VERY securely fixed on the wall. I had no idea every part on the bottom half would become something to aid in learning to stand. The beads and the toilet paper holder are the perfect handles to pull up with. Once she's up, I've seen Little Sis hang on to the doors, the pipe, the chain lock and even the balance cups as she moves along testing out everything within her reach. This is one of the best toys we have in our house and I'm amazed that big sis continues to play with it as much as she does even though she's almost 3. Busy boards are wonderful, they are mess free and actually do keep kids busy!