Fabric covered storage bins are perfect to hold all the little things kids need in a somewhat organized manner. Big girl bed for toddler = freedom to empty all the dresser drawers at night.  I don't mind the clothes being pulled out so much, but the little things like headbands, socks and diapers are the biggest pain to sort back out EVERY SINGLE MORNING.  So I hung up a new shelf well out of big sis's reach, planning to store those items in a few small fabric covered storage bins. Of the thousands of sizes they sell, there wasn't one that would fit on my shelf (that I was willing to pay for). These are nothing special really, just a wipes box, (which we have in abundance at our house) and an old bed sheet. Because the shelf is already high up, the boxes needed to be short so I could still easily reach into them.
materials list:
Cardboard box
Box cutter
Scissors
Fabric
Spray adhesive
Ribbon or other decorations (optional)
fabric covered storage bins: cut the boxes
The first thing I did was to cut my 2 wipes boxes in half, giving me 4 boxes to cover. Once they were both cut, I used some packing tape and taped over the holes for the handles to hold the flap in place and make the sides smooth. Then I had to glue some sheets of paper over the sides to keep the lovely baby picture from showing through my light blue colored sheets.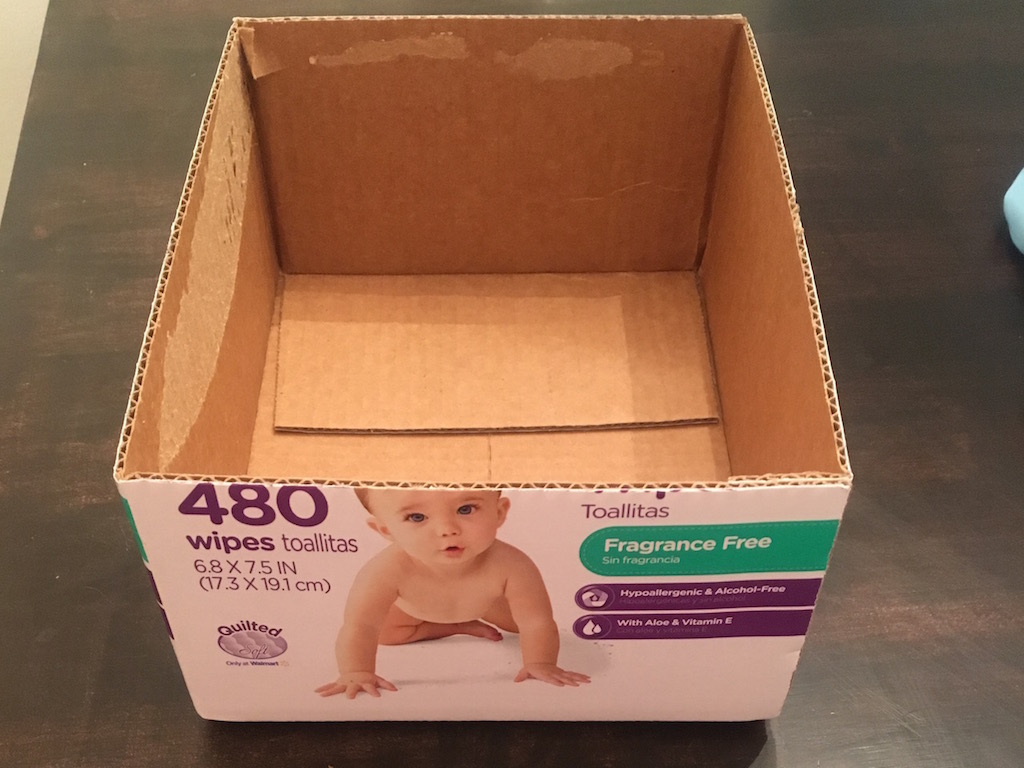 fabric covered storage bins: cover with fabric
Now for the fun part, the fabric.  If your fabric is thin enough, spray adhesive is the way to go.  It's so easy to use and holds everything nice and flat.  I cut the corners of the fabric and tucked in edges to give it a seam like look. The tops are just folded into the box and the edges tucked under.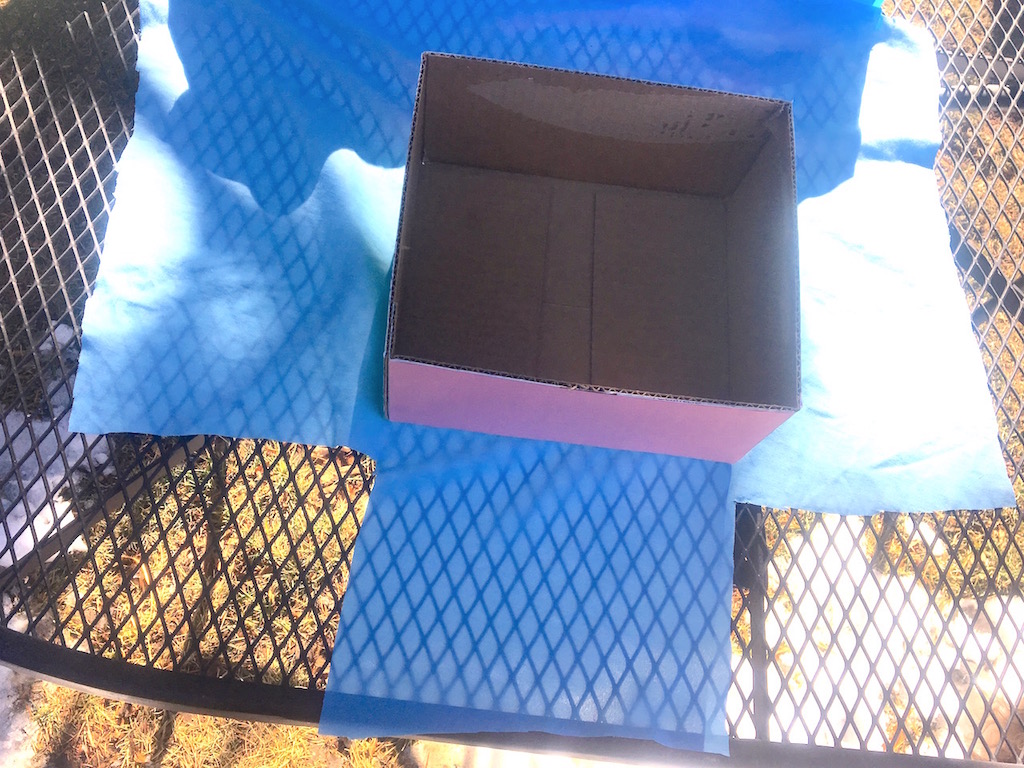 fabric covered storage bins: decorate
Once you have the fabric on, you can get creative. Use ribbon, paper or really anything you'd like to decorate the boxes to your hearts content. I kept mine simple, one ribbon and one bow. I like the fancier ones, but I always end up getting tired of the decorations so I keep just about everything pretty simple now. I love the way they turned out and the best part is they were completely free since I already had all the materials on hand!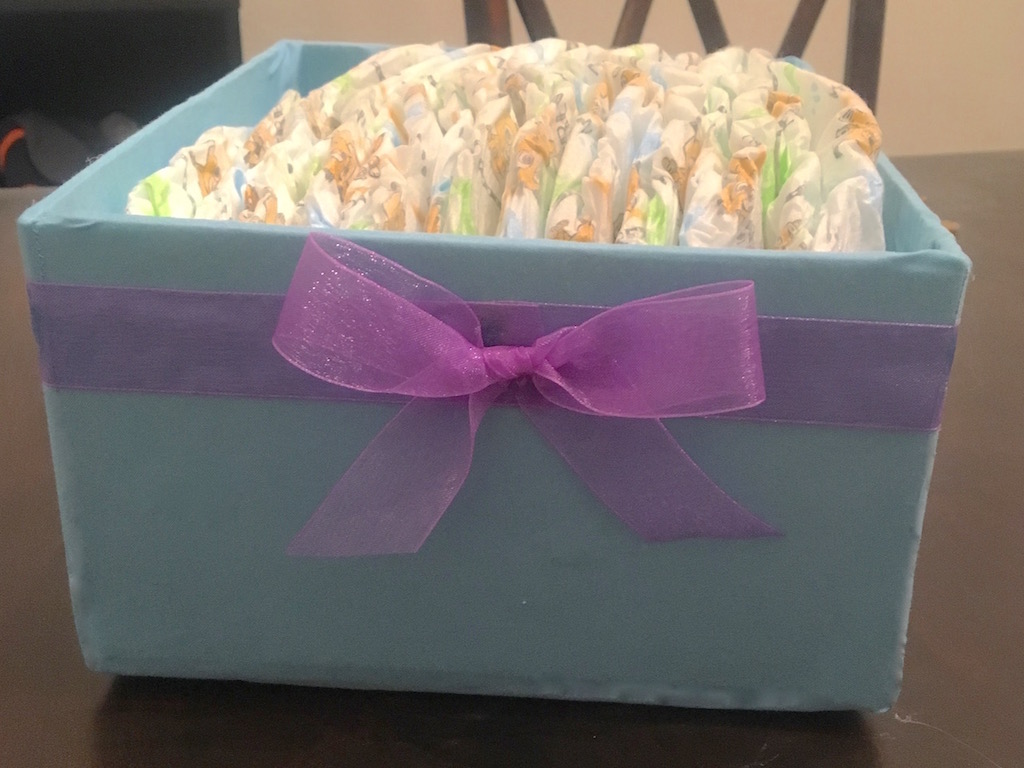 I think they look so cute all in a row. Diapers, socks and headbands are now safe from toddler dumping!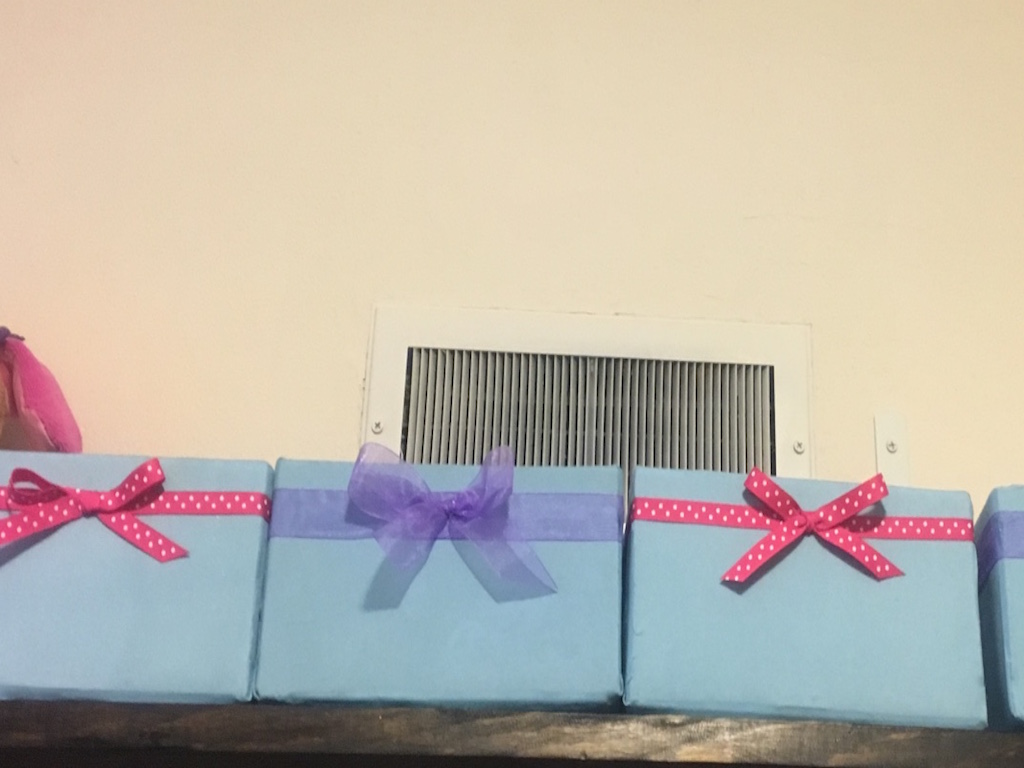 I need to make some bigger ones for toy storage too!