Quote art is a super easy way to decorate a blank wall, especially if you have a saying you love. Yes, there are a ton for sale in just about every store, but I'm cheap, so I made my own with a printer and glue. The whole project took only a couple of hours and that was only because I had to let the paint dry in between coats.
material list:
Old artwork or canvas
Paint
Foam roller
Printed quote
Scissors
Glue
quote art: prep and paint canvas
Here's what the original painting looked like before. This used to fit perfectly in my bathroom, but between buying a house and having looked at this peacock for years, I was over it.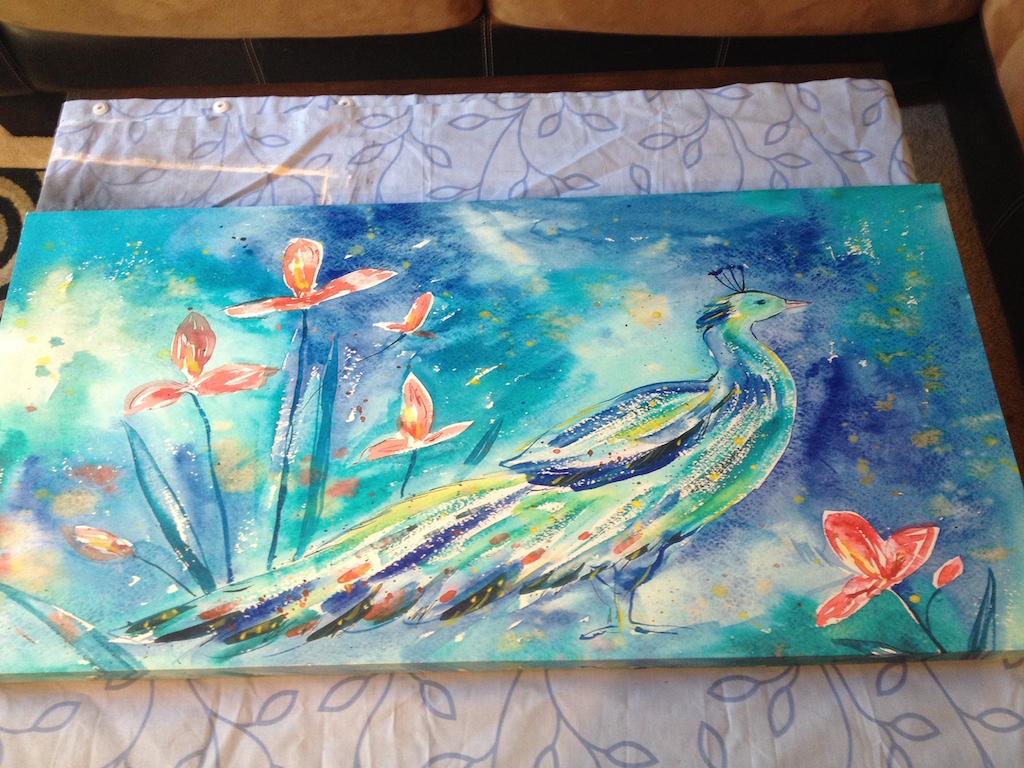 The first thing I did was to paint it all white. I had plain latex paint on hand, so that's what I used. It took 3 coats to completely cover the peacock. I used a foam roller to keep the coats thin and even. While the paint was drying, I printed out the saying I wanted. I used plain white copy paper and a standard printer, nothing special. I chose 2 different fonts for the look, copied off a pinterest post I'd seen. I cut the letters out one by one. Scissors work fine for this, but if you have an exacto knife on hand, it makes cutting out the insides of the letters much easier. I also cut out 2 hearts from a piece of scrapbook paper I had around and painted those gold (beacuse…pinterest).
quote art: glue everything on
Place the letters and shapes where you want and glue down. I used regular Elmer's glue. While the glue was still wet I used the paint roller (washed and dry of course) to roll over the letters to flatten out any glue imperfections. Once the glue was dry, it was time for the final step. A good thick coat of glue-water. Yes, you read that right. If you have modge-podge go for it, but I didn't have any on hand, so I mixed some of my Elmer's with water and rolled it on. The only advice I have is to roll SLOWLY. The watery glue made the printer ink bleed a little if I rolled over it too many times or too quickly, but the smudges wiped right off the latex paint. I put on a total of 3 coats of glue water and called it done. New wall art, no money spent, no complaints.