So MANY sweets, treats and presents! We baked a cake, cookies and cupcakes. We made play dough, we had a sleepover and we played in the snow, multiple times. What a busy week it's been! Lil sis turned 3. She was very excited for her new 3 year old shoes, but not so much on her new 3 year old chores. She has been saying for a month now that she doesn't have to help clean up toys because she's too little. As soon as she suggested she'd do it when she was 3, I decided to go with it. Now that she IS 3, I think she's realized that might not have been the best deal for her. She also gave up her sweet habit of saying "nouth" instead of mouth this week. She has officially had enough of big sis picking on her about it and she now catches herself almost every time and says it correctly. It makes me a little sad that she's really growing up.
Lil sis LOVED being in the spotlight for a change. Big sis, however, was so incredibly jealous. She wanted to help with everything. That turned out to be a good thing on the candles because dad snuck some "magic" candles in that just wouldn't blow out. The girls tried so hard, but the candles just kept relighting until they gave up. After cake, big sis was also convinced she should open half the presents and lil sis was not going to have that!
Next, it was mandatory outside time after all those sweets. Dad found this cute little 4-wheeler so the girls were happy to go out and try it. Then they went for a swing ride, then back to the horses to see what dad was doing.
The rest of the week we:
Made play dough and played play dough for hours! Pretend sweets aren't quite as good as the real thing, but they were still fun to make. Old kitchen utensils make the best play dough toys!
Made Valentine's cards and got glitter EVERYWHERE! The trek to the mailbox was a very snowy one, but we made it almost all the way back to the house before little sis fell in a big muddy puddle on the driveway. Unfortunately when your rain boots are only 6″ high, you just can't stay dry in most of the puddles we get.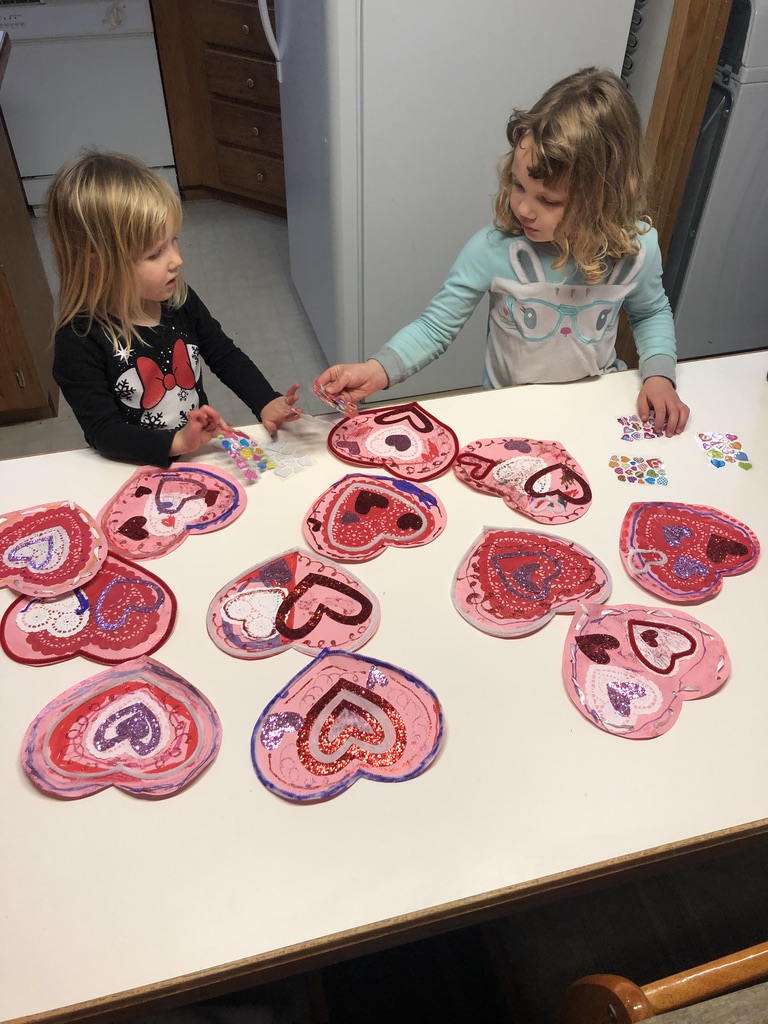 Played in the snow in our pj's…because who has time to stop and get dressed when you wake up to a snowy day?
Had our first sleepover. The girls showed off the chickens and their tire swing. They played in the snow until they were all wet, and then came inside to bake some cookies.
The next day the girls helped me finish up our silent auction cupcakes by getting covered in cake batter and frosting. The finished cupcakes still managed to turn out ok!
Worked on the house. I got my sign hung up in our dining room and my re-writable sheet metal board framed and hung. The girls also assisted in building a bucket mouse trap. I thought for sure it would work for our mice, but it might need some refining because they somehow avoided falling in all day yesterday. I didn't feel as bad though when I realized they also licked all the peanut butter off all the traps dad set. Clearly our barn mice are smarter than I give them credit for. The battle isn't over yet mice!