Some might say their dog ate their homework, but in our case, it's the puppy burned the cookies. The urge for Christmas cookies suddenly hit when I came across a soft gingerbread cookie recipe. The girls have been obsessed with the gingerbread man story too, so when I offered to make some, they instantly accepted. After we had a pack of gingerbread men, big sis asked if we could make a snake. Um….sure? Once they were all baked, they decorated some and ate some, and ate even more frosting. Big sis said she had to eat the snake the second he was frosted because if she didn't, "he'd eat the gingerbread men all up". Definitely don't want that.
Big sis also learned the hard way that filling up a bird feeder with free range chickens is no easy task! As soon as the sack rustled, they were there to assist in eating the bird seed.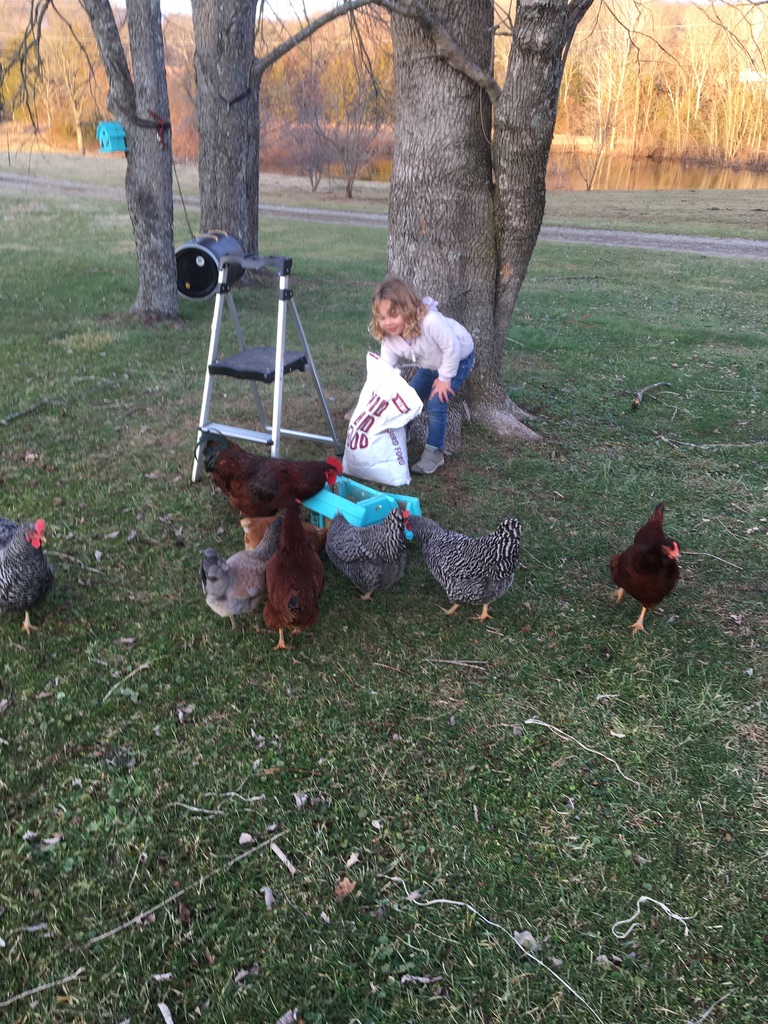 The baby chicks are starting to get big. They are flying out of the brooder now and hanging out on the side. Lil sis thinks it's so cool now she can just walk over and get a chick rather than waiting for help to reach one out of the bottom.
Then we baked MORE cookies. This time though, as the second batch was in the oven, we spotted a puppy run across our front field. Cookie dough was old news and the girls ran to the porch to see. So did I. He turned out to a be a friendly little guy looking for belly rubs. Cute puppy while baking = burned cookies. The girls played chase, rubbed his tummy, then they decided he was kind of dirty and he needed to be brushed. Then we left the house for a while and I thought for sure he'd be gone when we got back. Nope. He was still on our porch, shivering in the rain.
Dad said he could come in for the night. The girls gladly gave him a bath and cuddled him up to sleep. The next morning I reported him found and was told they couldn't do anything until Monday. Puppy for the weekend….and we need some dog food!