Two major projects completed this week. The gross shed is officially all cleaned out and half full of hay! What a nasty project this was, so thankful its over! When I thought I had just a little more stuff in the loft, it turned into WAY more boxes than I ever thought could be up there. Turns out they were against the back wall and I just couldn't see any from below. Dropping boxes down and watching them explode was kind of fun though. Until an entire mouse family exploded out of one of the boxes too…that definitely caught me off guard! The chickens gladly came in and cleaned up all the beetles and spiders once I had all the trash out. They were in heaven, while I was definitely…not. I do get to appreciate the fact that it's just hay in there now, every single time I go in to feed the horses. We are still trying to burn the parts of the trash we can and haul the rest away. Only so much can fit in one trip and there are only so many hours in the evening for bonfires.
The second project was our table. After almost 2 months of being here, I think it's probably time we get a table. It's a much needed piece of furniture, especially if you invite friends or family for dinner! The girls worked so hard sanding away all the splinters. Then we stained it and started to put it together. I caught big sis with the instructions trying to tell lil sis how to put the bolts. Definitely made me laugh!
We couldn't get it put together fast enough. The benches weren't even attached and big sis thought she would color. Lil sis was just thrilled she finally got to play with the level. As soon as I get the rest of the dining room cleared of boxes, it can get pushed into place and maybe I'll get a good picture of the whole thing. Maybe.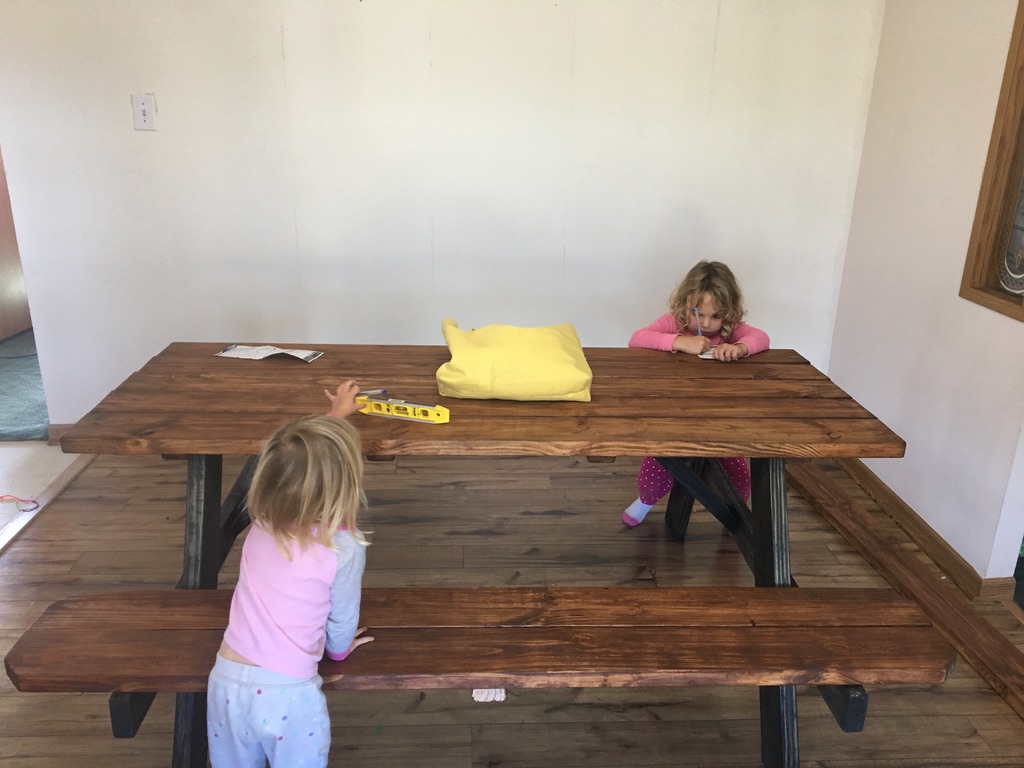 Outside, we had the usual horse rides, plenty of horse treats (while wearing wings of course) and we finally planted the last of our berry plants. I don't know if they will make it through the winter either, but worth a shot.